a solution for every body
A new generation of body solutions to treat the main silhouette alterations in a personalised way.
efficacy and innovation

latest formulation technology with advanced active ingredients that maximise each product's efficacy.

Synergy between compound formulas and application

textures and formats tailored to every area and indication with the aim of enhancing the results.

100% personalised protocol

new formulas for professional and home use that can be combined to design protocols suited to each user and need.

excellent results

proven efficacy with visible results from the first sessions and a high customer satisfaction.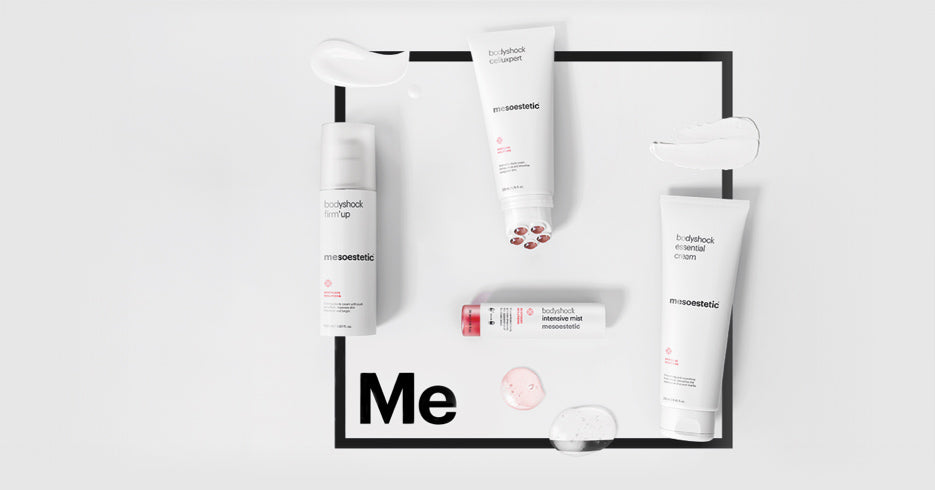 what is bodyshock®?
bodyshock®, is an innovative range of body solutions with formulas tailored to every need and indication, backed by proven results.
A protocol fully personalisedwith formulas that combine efficacy and sensations to build unique experiences in each session.
cellulite

Localised fat

Flaccidity

Stretch marks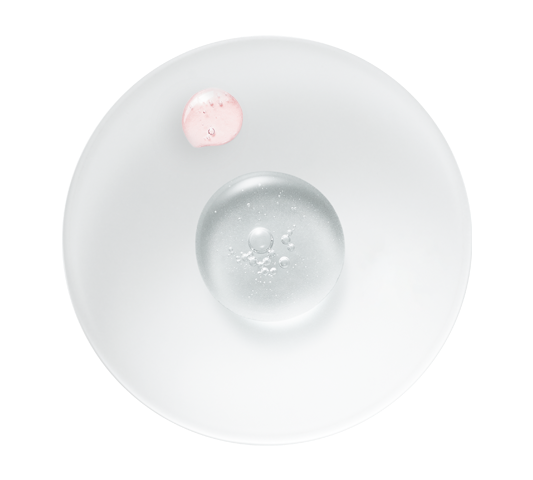 what does bodyshock® consist in?
bodyshock®is a personalised topical treatment that combines 10 in-cabin sessions and a home protocol tailored to the needs of each patient with the aim of maximising results.
TREATMENT PROGRAM
treatment duration: 5 weeks

Protocol in cabin:

100% customised comprehensive system to treat the main alterations of the silhouette.

total sessions: 10 sessions (2 sessions per week)

Home protocol:

Comprehensive range of topical solutions specific for each indication, combinable to achieve a protocol suited to each patient and aimed at maximising the in-cabin results.
BODYCARE PROFESSIONAL SOLUTIONS

bodyshock®:professional treatment

BODYCARE SOLUTIONS

bodyshock®: topical solutions

Grascontrol®: Food Complements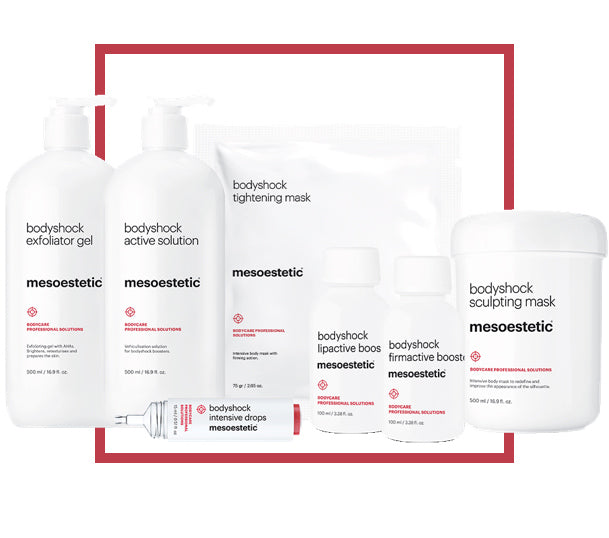 bodyshock®
body aesthetic treatment
BODYCARE PROFESSIONAL SOLUTIONS
00% customizable comprehensive treatment designed to treat 6 specific areas and formulas developed with ultra-concentrated active ingredients.
FAQs bodyshock®
How many professional treatment sessions are carried out?

We recommended undergoing 10 sessions, twice weekly, to maximise the therapeutic response.
As of which session can we see the results?

A more even, smoother and more moisturised skin can be seen as of the first session. After the fifth session, we will see more evident changes with a further defined silhouette.
How many sessions can be carried out in a week?

We recommend undergoing 2 sessions per week, although they can be increased to 3 if looking for a more intensive effect.
Once a 10-session treatment has been completed, when can I undergo another bodyshock® treatment? With how many sessions?

Depending on the needs of each patient, the treatment can be continued and extended to another 10 sessions. The number of sessions is determined by the professional, based on the patient's history and evolution.
Can maintenance sessions be taken after completing the treatment?

Yes, we recommended taking maintenance sessions to prolong the obtained results, as well as to develop body care habits.
Is there a massage protocol?

The bodyshock® professional protocol includes specific massages according to the treatment area and indication. Usually, the massage technique will be suited to the treatment's main objective. This allows carrying out draining, circulatory, firming or remodelling massages as per the indication.
Why has L-carnitine been introduced in all the range's products?

L-carnitine is a carrier of fatty acids to the mitochondria, and therefore, a very effective ingredient for lipolytic treatments. L- carnitine is a substance with epigenetic efficacy and an anti-inflammatory and firming action, which makes it a relevant transversal active ingredient for the entire bodyshock range.