Regenerative solutions that reduce the appearance of wrinkles and expression lines retexturizing the skin.
discover the range anti-wrinkles solutions
adapted textures

enveloping formulas that restore skin comfort.

patented efficacy

formulas with antiagingepigenetic efficacy that act on the main aging markers.

smart-skin complex

combination of plant-based retinol and peptides that activate the synthesis of

regenerative action

regenerative action
fills the wrinkles at the source providing a smoother and retextured skin.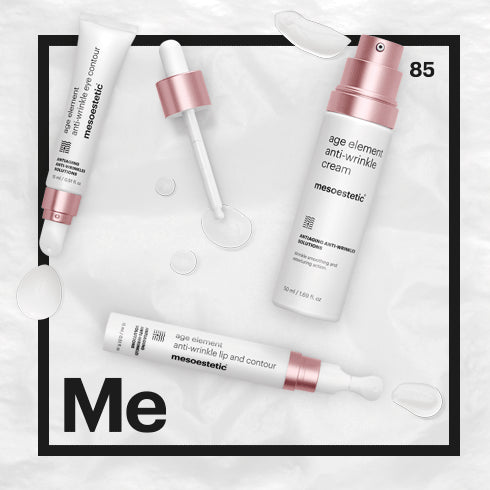 main active ingredients of the range
Plant-based retinolthat retextures the skin and stimulates regeneration by smoothing deeper wrinkles.
Biopeptide that provides a protective and regenerating effect on the dermal structure.
[meso]epigen system™, activates the production of growth factors.
BRIGHTENING SOLUTIONS

lack of luminosity
irregular tone and expression lines


FIRMING SOLUTIONS

flaccidity

lack of firmness and loss of definition of the facial oval

ANTI-WRINKLES SOLUTIONS

wrinkles and expression lines

thin and fragile skin with loss of facial volume
age element® products
medical cosmetics for your skin
what does age element® consist in??
age element® is a topical antiaging treatment based on epigenetics that combines a professional cabin treatment and a home treatment suited to the needs of each patient.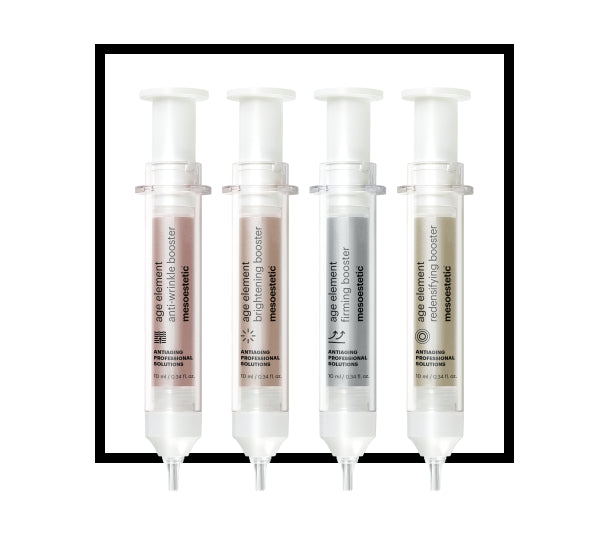 age element®
antiaging aesthetic treatment
ANTIAGING PROFESSIONAL SOLUTIONS
Fully personalizable epigenetic treatment for the main manifestations of aging, employing state-of-the-art technology.
SEE TREATMENT AGE ELEMENT®