Antiaging solutions withintensive antioxidant actionthat enhance the brightness in the face and prevent premature aging.
discover the range brightening solution
medical cosmetics for your skin
patented efficacy

formulas with antiaging epigentic efficacy that act on the main aging markers.

b-complex

optimized association of stabilized derivatives of vitamin C and hyaluronic acid.

brightens and revitalizes the face

prevents the appearance of expression lines, unifying the skin tone and smoothing imperfections.

adapted textures

light and fast absorbing formulas.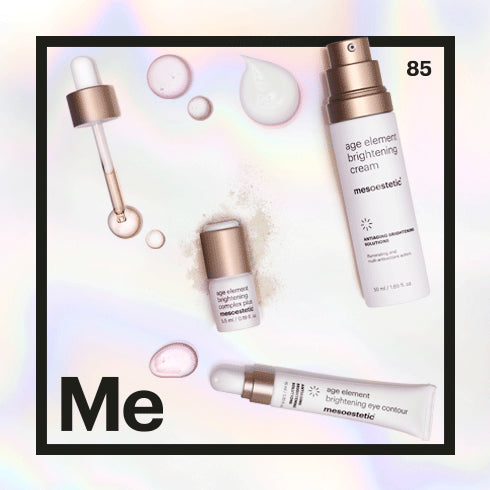 main active ingredients of the range
Stabilized Vitamin C that ensures the antiaging antioxidant, brightening and preventive action.
Hyaluronic acid for deep moisturizing.
[meso]epigen system™, reverses oxidative stress by activating and maximizing the endogenous antioxidant action.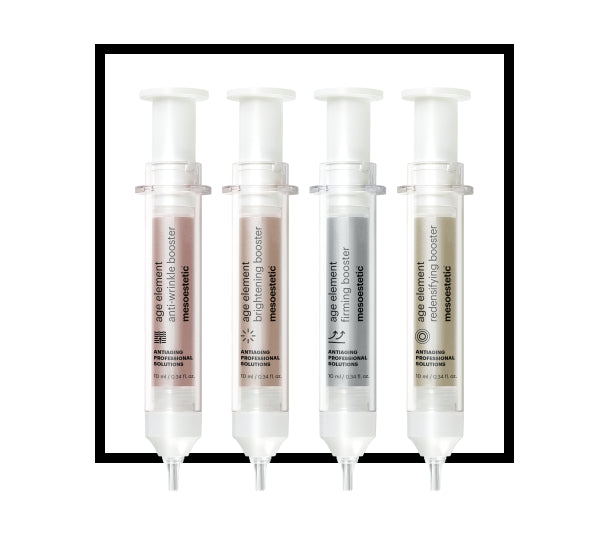 age element®
antiaging aesthetic treatment
ANTIAGING PROFESSIONAL SOLUTIONS
Fully personalizable epigenetic treatment for the main manifestations of aging, employing state-of-the-art technology.
SEE TREATMENT AGE ELEMENT®
FAQs age element®
How can I personalize my treatment?

Aging is a multifactorial process, and its signs appear independently.

Treat your eye contour independently of the rest of your face. Taking into account this area's needs will help you to reveal a rested and revitalized look.

Combine two age element® concentrates based on your concerns. You can combine them in a single application by mixing a few drops of both age element® concentrates or apply one in the morning and the other in your evening routine.

Use the treatment cream that best suits your main concern. Conclude your anti-aging routine by enhancing the treatment of your main aging concern.
Can I use my age element® home product without having to undergo the associated professional treatment?

The age element® anti-aging solutions have been developed to treat the main signs of aging, and the associated professional treatment is not mandatory. Combining the cabin treatment and the home protocol associated with age element® maximizes the results and enhances the formulas' effectiveness.
Do the formulas contain perfume?

age element® concentrates do not contain perfume in order to favor the combination of formulas.

age element® eye contours do not contain perfume in order to maximize tolerance in the periocular area.

age element® creams contain pleasant and distinct perfumes that make every home routine a unique and sensory experience.
Do age element® creams contain SPF?

At mesoestetic® we work towards developing products based on a need, where all their active ingredients are added to treat a specific indication. To achieve maximum sun protection efficacy, we must use a product specifically formulated for this purpose.

Therefore, after the age element® anti-aging routine, we recommend applying sun protection from the mesoprotech® range, which protects the skin from sun exposure and photoaging.
Can these products be used on oily or acne prone skin?

age element® concentrates are suitable for oily or acne prone skin. However, as a treatment cream, we recommend using solutions that are specially indicated to treat this type of skin.